For Artforum, I wrote up the three-day Claude Vivier festival that took place the Southbank Centre in early May. Great in particular to hear pieces like 'Lonely Child' and 'Zipangu' live--all too rare an occurrence, though there seems to be a bit of momentum around Vivier's work of late. Vivier's was a career cut short just as it seemed to be entering a new phase--but such riches there, particularly in the last two or three years of his life. Despite the traces of Stockhausen in the earlier works--their theatricality, their derivation of works from melodic cells or formulae--and the affinities with Spectralism in those towards the end, there really is little else like this in music, in its singularity of focus, the strange ambiguity of its soundworld: waves of un-identifiable feeling, swathes of colour, beams of light. For context, Bob Gilmore's biography is very highly recommended. Hoping to write in more depth on Vivier for another project, in any case...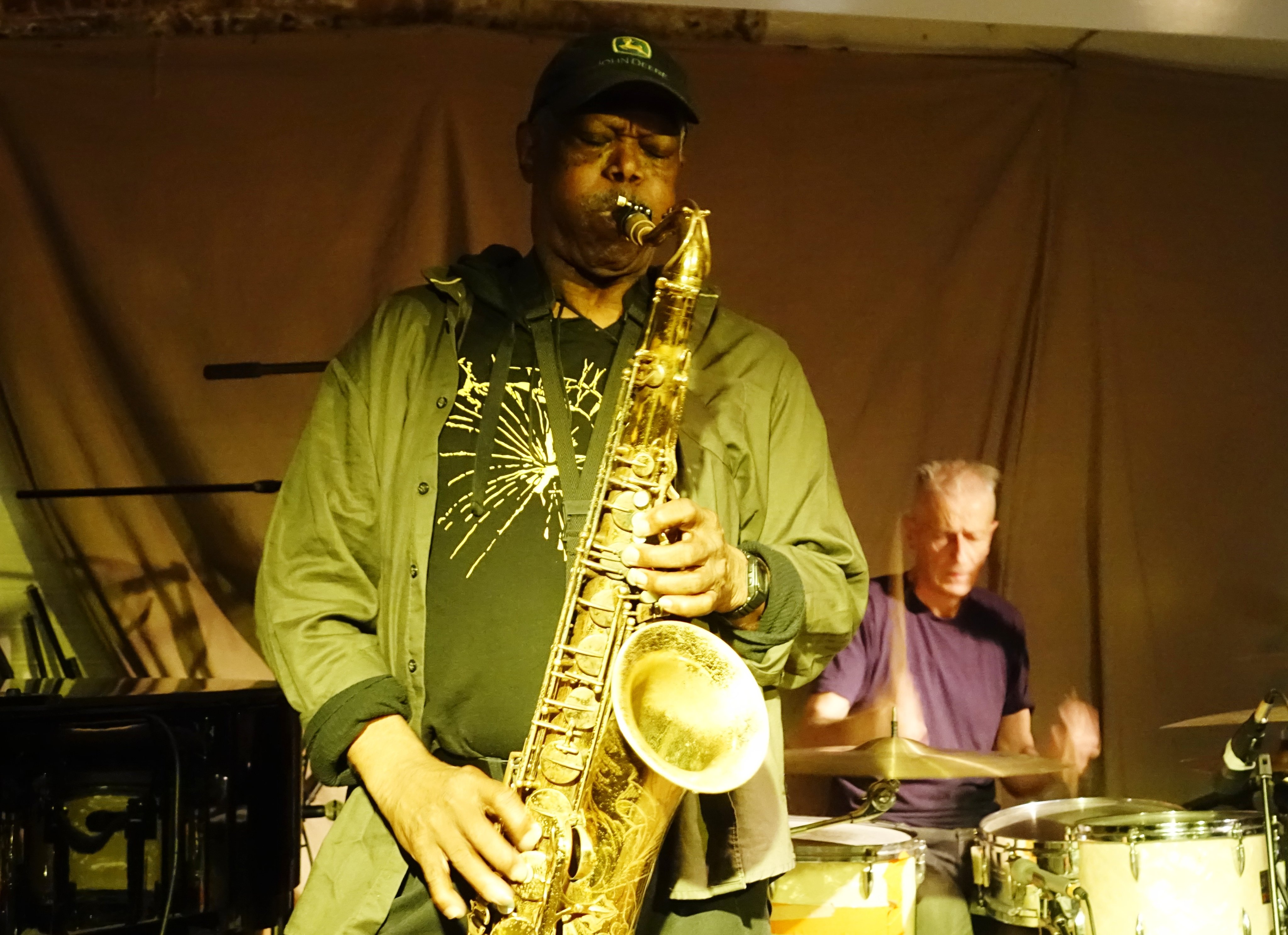 Photo by John Sharpe.
A few days before that, Decoy with Joe McPhee at Cafe Oto were sublime, continuing their periodic reinvention of the organ trio as if they'd never left off. Alex Hawkins on a vintage Hammond B-3 hired for the occasion, John Edwards on deep-diving bass, Steve Noble on absolutely thunderous drums, McPhee--who I last saw at the venue pre-pandemic, in a series of varied duets including a mesmerisingly surprising one with Áine O'Dwyer on harp and vocals--this time on tenor only, no trumpet (with occasional recitations of poems), taking his time, playing in bursts or sections rather than blasting in one uninterrupted flow, an immensely subtle player, though the energy he conjures up might make that easy to overlooks. This is a real live band, thriving off the crowd's energy and creating energy all of their own, they played for two nights, four sprawling sets, from floor-rumbling quakes to glassy high pitches and McPhee's too-little remarked lyricism (there's little else as gorgeous as that short early seventies piece 'Cosmic Love', recovered for posterity several decades after it was made). Somehow, despite the broader revival of interest in those of his generation--preferably dead and thus saintly--McPhee has to an extent escaped this sort of mainstream attention. Perhaps his career outside the circuits of academia has something to do with it; or the fact that McPhee isn't writing works for classical forces and the concert hall, those worlds that still, despite gradual signs of change, are arbiters and gatekeepers of musical value and prestige within the world of the avant-garde. Perhaps, too, class could be invoked, McPhee working in a factory for years alongside his musical career. Either way, it's almost impossible to believe that he's in his early eighties, and Decoy is surely one of the most sympathetic contexts he's had over the past ten years. Above all else, there was a real sense of joy and fun to the music: life affirmed, over and over. A capsule review of that will be out in the next Wire.
And within the same week, Dom Lash and N.O. Moore at the indefatigable Hundred Years Gallery. Scheduled as a trio, they ended up performing a duo in the absence of the scheduled John Butcher, the unforeseen combination of double bass and guitar a fairly unusual combination (though Joe Morris and Damon Smith provided an interesting contrast over the speakers in the break). In fact, that accident served as a kind of focussing device, in two sets fascinating for their textural detail and the concentration the detail afforded: Moore's playing admirably finding ways out of the inevitable Bailey-Rowe alternatives facing the non-idiomatic guitar player, a modest array of pedals swallowing up the sound like hiccups or stuttering gulps, scratching and plucking, cut-off gasps, or else exploding and expanding the sound with the occasional flying-fingered virtuoso run; Lash's scrapes and thwacks activating the bass's woody surface, all the nervy robustness of the instrument at play, tensile and tense. Gnarly is the word I'd use, in the all the best senses of that word. (Some representative video clips provided by a fellow audience member here.)
Mention should also be made of the album launch the previous month by another Lash-featuring group, Nodosus, this one taking in South London at Iklectik, round the corner from Waterloo station, a warmish evening, farm animals poking their heads behind the fence next-door. I've brought along a gigantic volume of the collected poems of Larry Eigner that I brought back from New York, the conglomeration of minute fragments in unwieldy, oversized form. Maybe that combination of the small and the large says something about the music that takes place, maybe that's just coincidence. "All matter / standing / build up / wave to wave" reads an Eigner poem dated May 10, 1970. And the pairing that takes place here--whether opposition, interrelation, transformation--of solidity and flux, materialism and what troubles its edges, is as good a way into this music as any.
Nodosus is a brass and strings kind of ensemble: John Butcher's on tenor, Angharad Davies on violin, Matt Davis on trumpet and electronics, Dimitra Lazaridou-Chatzigoga on zither. The sound they make together is, as might be expected, quiet(ish) and droning in its tendencies, but it's often fuller or more jagged of texture than might at first meet the ear. This is, above all, real ensemble music by a group of players really excellent at listening in groups, overlapping and building a collective texture that's not homogenous but finely abraded, interlinked, solid yet with a tendency to dissolve at any point. Lash, focused more on the bow than in the duo with Moore, was perhaps more assertive than might have been expected from his playing in Wandelweiser contexts or the quieter idioms of "non-idiomatic" playing: moving forward or holding back, leaning into the music's deep end or playing high harmonics as a kind of ethereal commonplace, commonplace ether, everyday magic. Activating the resonating surface of a zither with e-bows and objects, Lazaridou-Chatzigoga's sense of touch never ceases to amaze, succession of vibrating or smoothly oscillating held pitches ensuring the music has a drone-like energy to it all the way through, but capable of switching texture at any moment. What's fascinating about watching Lazaridou-Chatzigoga perform is the way you can see the sound shaped before your eyes: the pressure of object on string, of finger on object, the way that placement alters sound, live-sculpting, structures built and dismantled, textures thickened and lightened, tightened and loosened, a playing unassumingly yet at times overwhelmingly focused in its presence. Angahard Davies, too, is the most subtle of players, her approach to the violin so often a radical reinvention of all the cliches associated with the instrument--quiet, brittle, circling, not smooth and flowing and dripping with molasses-like pathos; and so good as a group or solo player alike--again, that interrogation of the surface of the instrument, of touch, a perpetual reinvention of what it means to play ensemble; while Butcher and Davis bring in a sense of breath, of extension and pausing, holding notes in upper registers and multiphonics, latching onto phrases that cycled, held, subsided. I remember Davis' playing, in the deconstructionist vein of Dixon--Doerner--Uhler--Kerbaj, from one of the first free improvisation gigs I went to, at the old Red Rose in Finsbury Park; possibly the Freedom of the City festival; Bechir Saade might also have been playing. It's not a playing self-consciously minimal in its approach, nor does Davis appear to have any interest in asserting himself as a single voice or element outside the ensemble texture; and while the tone of the instrument might lend itself to a certain melodic heft, leaning more towards the melancholic lineage of Dixon and its jazz trumpet associations than the noise elements of the trumpet-with-electronics approach, its place in the group is one of texture as much of melody (or conversely, of melody, as much of texture). Finally, it's perhaps easy to take John Butcher for granted, but every time he plays there's a new surprise to go alongside the vocabulary he's long made his own. A particular phrase he played at one point was one of those moments in an improvised performance perfect in their transitoriness, jewel-like, gleaming--and unassumingly as much a part of the music as any other.
"All matter / standing / build up / wave to wave". Yes, the Eigner poem fits perfectly, arbitrarily precise: the sound of these five musicians together combining over two sets in solid rippling waves. A few years ago there might have been some debate about whether this was 'eai', which school of Berlin or London silences it might have bene placed in. In 2022, it was free to be what it was, in all of that inscrutable and beautiful mystery. The CD can be found on Daniel Thompson's Empty Birdcage records here.
Finally...somehow I've only just discovered the existence of Marguerite Duras' children's story Ah, Ernesto!, via Duras' last film, Les Enfants, an expanded feature which later spawned her novel Summer Rain--one of the first of her books I read in a copy discarded by the local library or charity shop. (The original was adapted into a short by Straub-Huillet.) There's a reprint from 2014, apparently illustrated as if it were a cookbook, which I suppose fits Duras's austerity but not the wildness that austerity enshrines. From the looks of it, the original printing has some more (in)appropriately wild psychedelic images, including a giant Einstein. If anyone knows of somewhere I can get hold of a more affordable (French-language) copy than the £87 currently listed on AbeBooks, do leave a comment here.
(To be read, perhaps, alongside Lorna Finlayson's piece "
I was a Child Liberationist
" at the
LRB
...)